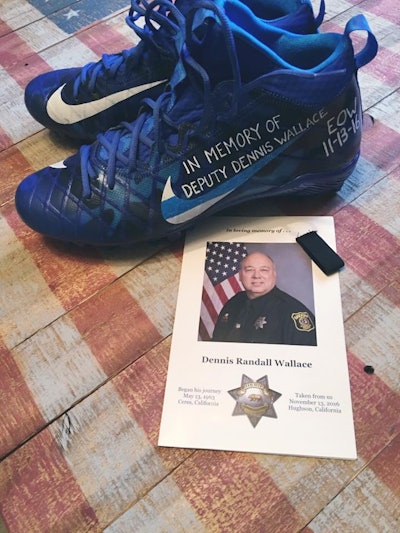 Game-worn cleats dedicated to Deputy Dennis Wallace of the Stanislaus (CA) Sheriff's Office will soon be owned by his family.
On Thanksgiving, Indianapolis Colts player Matt Overton wore a special pair of cleats in honor of Wallace. The blue cleats read "In memory of Deputy Dennis Wallace EOW 11-13-16." Wallace was killed in the line of duty on Sunday, Nov. 13, while investigating a stolen car.
Overton is a graduate of Tracy High, ABC 10 reports.
In a Facebook post on Monday, Overton said the cleats will be sent out to the Stanislaus County Sheriff's Office and then delivered to Wallace's wife and family.
"Deputy Dennis Wallace built a legacy that will continue to live on. Thank you sir for your service & for sacrifice. I will never forget! Salute & Godbless 🇺🇸 #ThinBlueLine," the post continued.