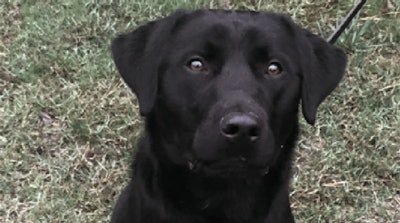 Police in Pembroke, NC, are planning a remembrance service for their fallen K-9 Officer Payne.
The canine died Monday from injuries suffered in a shooting earlier this month. Payne's death was reported on social media by Pembroke police and his family, partner Officer Jason Hunt and his wife Alicia Hunt.
The Labrador Retriever was shot when Jason Hunt stopped on Union Chapel Road on Nov. 18 for the dog to walk. Last week Pembroke Police Chief Grant Florita said it appeared Payne picked up a scent and ran toward Garden Street. Hunt then heard several gunshots before Payne came back limping, with flesh wounds on his left leg and ribs.
The investigation into the shooting is ongoing but no information on potential charges has been released. He was reportedly shot by someone who believed he was a stray and whose own dogs had recently been attacked, the Robesonian reports.
Pembroke officers held a plate sale and benefit run to raise money to get the K-9 unit, which primarily deals with narcotics, started in the spring. The Lumbee Tribe also donated $5,000 to the effort to bring in Payne and his fellow K-9 Officer Zeus.