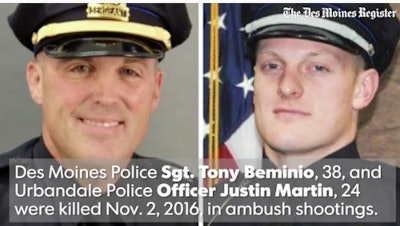 An Iowa man was sentenced Friday to two consecutive life sentences after pleading guilty to last year's ambush killings of two Des Moines-area police officers.
During a hearing at the Polk County (Iowa) Courthouse Friday morning, Scott Michael Greene, 46, withdrew not guilty pleas and pleaded guilty to two first-degree murder charges in the shooting deaths of Urbandale (Iowa) Police Officer Justin Martin, 24, and Des Moines Police Sgt. Anthony "Tony" Beminio, 38.
Greene ambushed each officer separately, gunning them down in their patrol cars in the early morning hours of Nov. 2, 2016.
In court Friday, Green admitted to both shootings, USA Today reports.
"I took a rifle and I shot an Urbandale police officer," he said. Then, "I was driving down Merle Hay Road, I turned right next to the officer (Beminio) and I took the same rifle and I killed him."