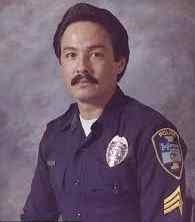 A man convicted of masterminding a robbery that led to the 1988 slaying of an Inglewood, CA, police sergeant is set to be released from prison despite the furious pleas of the slain officer's family and law enforcement leaders, officials said.
Joevone Elster, who was convicted of first-degree murder and robbery in the shooting death of Inglewood Sgt. George Aguilar, will be released from state prison next week, said Luis Patino, a spokesman for the state department of Corrections & Rehabilitation.
It was not immediately clear, however, whether Elster would instantly become a free man. Patino said Elster would be released into the custody of the Los Angeles County Sheriff's Department. A Sheriff's Department spokeswoman said he is wanted on a forgery warrant but could not offer additional details Thursday night, reports the Los Angeles Times.
Elster did not fire the shot that felled Aguilar, but the sergeant was killed during a car chase that followed a gas station robbery plotted by Elster to gain revenge against a former employer. He was sentenced to 32 years to life in prison in 1989.
A parole board deemed Elster suitable for release in April of 2016, but Gov. Jerry Brown reversed that decision months later, records show. Elster appealed, and a Los Angeles County judge overturned Brown's decision in March 2017.
Aguilar was survived by three children. His youngest son was just 5 at the time of his death, according to George Aguilar Jr., who was 24 then. The family has launched a social media campaign that it hopes will spur politicians to fight Elster's release, and Aguilar Jr. said relatives and friends have written letters to Gov. Brown hoping he will appeal.