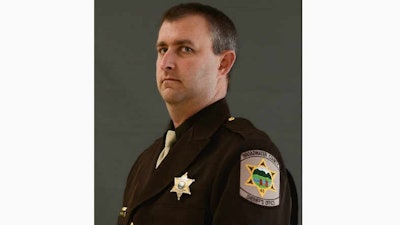 A Broadwater County, MT, sheriff's deputy was shot and killed in a shootout during a traffic stop early Tuesday morning on MT 287, south of Interstate 90.
The Broadwater County Sheriff's Office has identified Mason Moore as the deputy who was killed. Deputy Moore was a three-year veteran of the Broadwater County Sheriff's Office. He was a husband and a father of three children, reports KECI.
According to law enforcement, the deputy had pulled a vehicle over in what's described as a "routine stop" at approximately 3 a.m. He had called the incident in to dispatchers, but then never called back.
A Gallatin County deputy then responded and found the deputy dead, KTVQ TV reports.
A BOLO alert was issued statewide and eventually a Montana Highway Patrol trooper spotted the vehicle near Anaconda. A pursuit ensued. It ended with the passenger being shot by law enforcement in a gunfight. The wounded suspect was taken to the hospital. The driver surrendered without incident.
Butte-Silver Bow Sheriff Ed Lester said in a press release the suspects were firing at officers with at least one semi-automatic rifle. Gunfire damaged patrol cars, making at least two inoperable, reports KECI.
Lester reports one of the suspects was wounded in the head as officers returned gunfire. The second suspect has a gunshot-related injury to his hand. Both suspects, 61-year-old Lloyd Barrus and 38-year-old Marshall Barrus, are in custody.