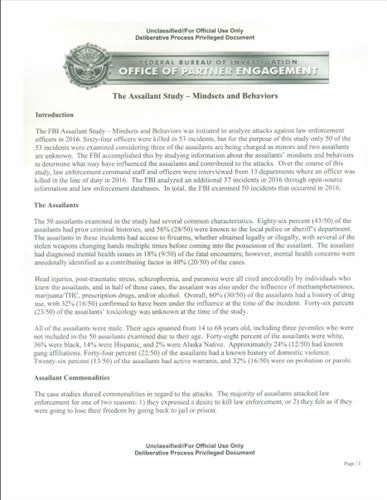 An internal FBI investigation into the spike of attacks on law enforcement has determined that revenge, inspired by the Black Lives Matter movement, the media's reporting on officer-involved shootings, and criticism from politicians, motivates a significant number of assaults on officers, including fatal attacks.
"Law enforcement officials believe that defiance and hostility displayed by assailants toward law enforcement appears to be the new norm," said the leaked internal report stamped "For Official Use Only" and acquired by the Washington Examiner.
The report studied 50 of 64 killings of police in 2016 and found 14 simply wanted to kill police.
"The assailants inspired by social and/or political reasons believed that attacking police officers was their way to 'get justice' for those who had been, in their view, unjustly killed by law enforcement," the report says. In two horrific assassinations of police, the report said that "the assailants said they were influenced by the Black Lives Matter movement."
Another reason for killing police, according to the FBI, was a "desire to remain free."