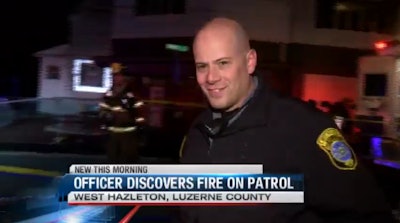 A West Hazleton, PA, police officer is being considered a hero after discovering a fire on his routine patrol in Luzerne County.
The West Hazleton fire chief told WRBE that patrolman Alex Kosatschkow started smelling smoke just before 11:00 Saturday night. The patrolman found heavy fire coming from the third floor of a home on Winters Avenue. Three adults that live in the home made it out safely, thanks in part to the police officer's quick response.
"He's one of the guys that went in when one of the residents tried running back in the house," says West Hazleton Fire Department Chief Shawn Evans. "He gained control of her and pulled her from the house because at that point black, toxic smoke started to come all the way from the third floor to the first floor. That's a no good thing."
The three adults that were displaced are being helped by the American Red Cross.