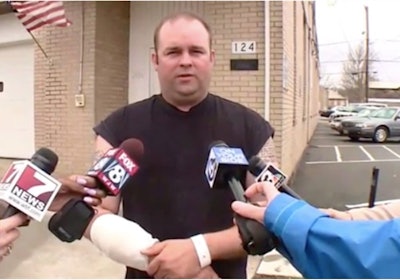 A Newcomerstown, OH, police officer who claimed he was shot by two armed suspects last week, prompting a search for the shooters, fabricated the story, the Tuscarawas County Sheriff's Office said in a news release on Tuesday.
Last Monday, 37-year-old Bryan Eubanks told authorities that he had been pursuing two suspects in a black Geo Tracker on Johnson Hill Road in Newcomerstown, when they began shooting at his patrol car, striking him in the arm.
Police put out an alert for a suspects, at one point even releasing a photo of one of the men, only to clear that person's name a short time later. After further investigation, and speaking with witnesses, the sheriff's office found Eubank' statements to be contradictory.
During questioning, Eubanks said he lied about the story after a failed suicide attempt. Officials say while they believe Eubanks caused his own injury, there are many questions that still need to be answered about the incident, Fox 8 TV reports.
Eubanks has been released to family so that he can receive medical care for his "state of mind," the news release stated.