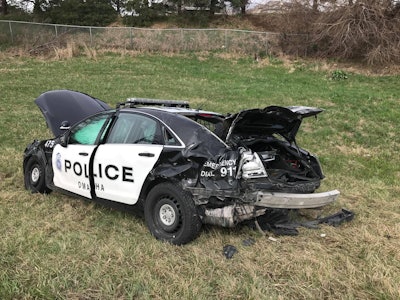 An Omaha Police officer was seriously injured Tuesday after a multi-vehicle accident on I-80. Officer Brian Vanderheiden was assisting another officer in a traffic stop at mile marker 444.2 just before 9 a.m. when the accident happened.
According to reports, a white cargo van attempted to change lanes in order to make room for the police cruisers. The van was struck by a blue 1995 Ford Taurus causing the chain reaction accident. The van collided with both police cruisers that were parked on the outside shoulder.
Officer Vanderheiden was transported to a local hospital in serious condition, with non-life threatening injuries. The driver of the van was also transported to the hospital with non-life threatening injuries, WOWT TV reports.