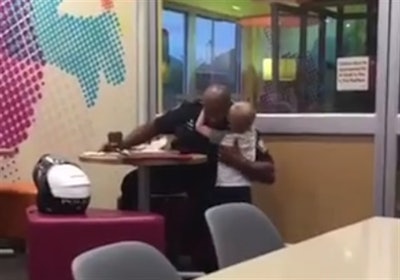 VIDEO: TX Officer in Viral Hug Video Says It 'Meant the World to Him'
A viral video of a shy 3-year-old boy hugging a Texas police officer is warming people's hearts and the law enforcement officer told Fox News it meant the world to him.
"I was honored and I was humbled because we see a lot of bad stuff," Fort Worth Officer Anthony Colter said on "Fox and Friends" Thursday. "But to see him, so sincere and such a thoughtful gesture – it made it a wonderful day."
Jamie Hubbard and her son TJ were at a McDonald's last week celebrating her birthday when Colter arrived on his motorcycle. The boy is fascinated by motorcycles, so he went up to talk to the officer, and then he gave him a hug.
Colter said: "I gave him a sticker and told him 'You're my helper today, so you've got my back for the day. He came by to tell me that 'I got our back and that I love you and support you'. It was a wonderful, wonderful day."
Hubbard captured the sweet encounter on video and the Fort Worth Police Department shared it on Facebook. It has been viewed more than 670,000 times and shared more than 13,900 times.