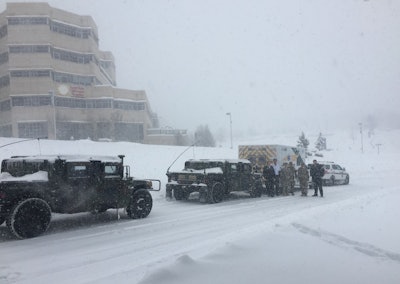 The Pennsylvania State Police and the National Guard teamed up with PennDOT to ensure that Tuesday's heavy snowstorm wouldn't stop a toddler in need of life-saving medical care from getting to the hospital.
Gov. Tom Wolf said a 23-month-old child was escorted by state snowplows and troopers through a heavy snowstorm from Mt. Pocono Medical Center in East Stroudsburg to Geisinger Children's Hospital in Danville as heavy snow fell Tuesday.
Troopers, guardsmen and a snowplow escorted the ambulance on its 80-mile trip Tuesday afternoon and "ensured everyone arrived safely," state police said.
The boy's mother, who did not want to be identified, told NBC10 her son was born prematurely and was diagnosed with a congenital heart defect that has required extensive medical treatment. She said the child was in critical condition and could have died if he wasn't transported to the hospital Tuesday.
The storm dropped more than 20 inches of snow and sleet in parts of eastern Pennsylvania, and snow continued to fall in some areas Tuesday afternoon, NBC Philadelphia reports.