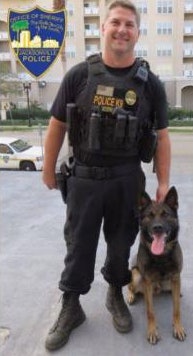 A veteran Jacksonville, FL, K-9 officer is in stable condition after he was shot in the face during the Tuesday afternoon pursuit of a bank robbery suspect. The suspect was killed in a shootout with the wounded officer and a detective.
Despite being shot in the chin area during the pursuit, 11-year veteran officer Jeremy Mason continued to follow 28-year-old suspect Michael Joseph Harris until a crash stopped it all at Buttercup Street, Sheriff Mike Williams said at a late Tuesday news conference.
After the crash, Harris came out of his car with the gun and was shot dead by Mason and detective Brad Hurst, who had joined the pursuit, Williams said. Harris, a three-time felon, had fired at them from a car as a woman drove him down Old Middleburg with police in pursuit, the sheriff told Jacksonville.com.
"He is stable, but he has a long road back," Williams said of Mason. "… You have an officer who is shot during the pursuit. He continues that pursuit and puts himself between the suspect, who is an incredibly violent felon, and the community and ultimately winds up stopping him from endangering the entire community."