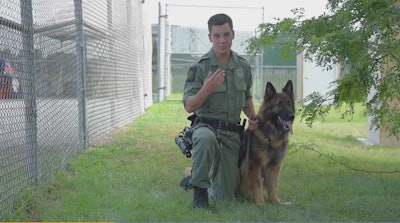 With the rise of powerful synthetic opioids across the state, Baltimore County police K-9 officer Stephen Roesler says it's vital that police officers who work with dogs know how to protect their K-9 partners should they be exposed to a substance such as fentanyl or carfentanil — both much stronger and more deadly than heroin.
Throughout Maryland, police departments have been training officers in their K-9 units on how to administer an opioid overdose reversal drug to their dogs in the event that they accidentally come in contact with these substances while sniffing for narcotics.
In Baltimore County, officers like Roesler learned how to use naloxone — known by its brand name, Narcan — on their dogs last year. It's administered nasally, in the same way and with the same dosage officers are instructed to use on humans. County K-9 officers now carry two vials of Narcan with them, while other patrol officers hold just one, the Baltimore Sun reports.