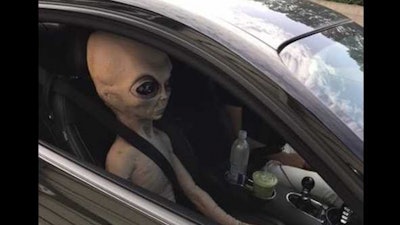 Police in a Georgia town had a close encounter with a non-human life form -- well, sort of.
George Gordon, a spokesman for police in Alpharetta, says that when a police officer pulled a man over Sunday on a suburban highway, a life-sized doll of a big-eyed, large-skulled alien was riding in the front passenger seat, Fox News reports.
The Atlanta Journal-Constitution first reported the encounter, saying the driver was clocked at 84 mph (135 kph). Not quite warp speed, and Gordon later told The Associated Press: "He did not mention as to `why' he had an out of this world passenger."