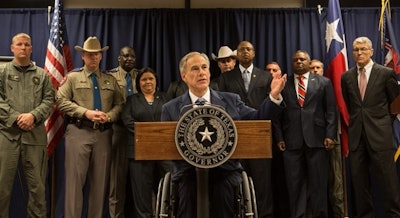 Texas Republican Gov. Greg Abbott recently gave his approval to the Police Protection Act, which ups the penalties for crimes against law enforcement officers in the state, reports guns.com.
The measure, HB 2908, was proposed by Rep. Todd Hunter, R-Corpus Christi, and passed the legislature with only one lawmaker, Rep. Jarvis Johnson, a Houston-area Democrat, voting against the bill. Abbott first backed the proposal to expand hate crime protections to law enforcement last July in the days immediately after an attack on Dallas police officers that left five dead left five dead.
"The men and women in uniform risk their lives every day to protect the public, and it is time we show them the State of Texas has their back," said Abbott at the time. "Texas will no longer tolerate disrespect for those who serve, and it must be made clear to anyone targeting our law enforcement officials that their actions will be met with severe justice."
The new law adds police and judges to those threatened or targeted because of their perceived race, color, disability, religion, national origin or ancestry, age, gender, or sexual preference. As such, it would increase penalties for those who assault a law enforcement officer or jurist to as much as 20 years in prison. Attacks that result in severe injury could result to life in prison on conviction.
The law takes effect Sept. 1.