VIDEO: 2 NC Prison Employees Killed in Inmate Escape Attempt
Two employees at Pasquotank Correctional Institution in Elizabeth City, NC, were killed and several others injured during an attempted prisoner escape Thursday, according to the North Carolina Department of Public Safety.
The victims have been identified as 35-year-old Correctional Officer Justin Smith and 50-year-old Correction Enterprises Manager Veronica Darden. Smith provided security in the Correction Enterprises Specialty Sewing Plant and had worked as a correctional officer since 2012. Darden had supervised inmates at the Specialty Sewing Plant for the last 10 years and previously worked as a correctional officer, reports WTKR.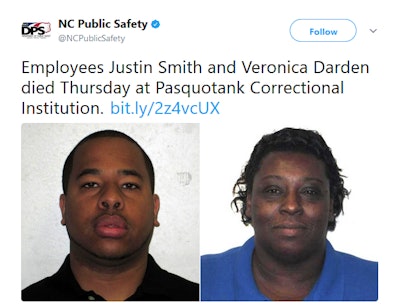 Officials with the department say inmates started a fire around 3 p.m. in the facility's Specialty Sewing Plant, where about 30 inmates work producing embroidered logo items, safety vests, and other sewn items. After the fire was set as a diversion, several inmates unsuccessfully attempted to escape.
Three other prison employees remain hospitalized in critical condition at Sentara Norfolk General Hospital. Seven prison employees were treated and released from Sentara Albemarle Medical Center in Elizabeth City. Four inmates were treated for injuries, reports WTVD.