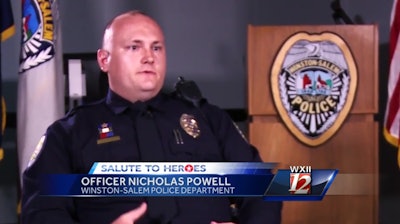 When most people hear Winston-Salem, NC, police Officer Nicholas Powell's story, they can't believe he is still alive.
Powell was shot four times while inside a car just after 2 a.m. on Jan. 4, 2016.
Not only did he survive the shooting, Powell was able to arrest the suspect and was later named the city's Police Officer of the Year.
On Tuesday, Powell will be honored by the American Red Cross of the Piedmont at its annual Salute to Heroes awards ceremony, reports WXII.
On that night, Powell and his partner responded as backup to a traffic stop. And Powell noticed one of the suspects getting into a police vehicle and trying to drive away. Powell jumped on top of him adn they struggled as the car kept moving until Powell could stop the car. Then the suspect shot him.
In addition to being shot in his Kevlar vest, Powell was shot in his right forearm. That shot shattered a bone, leaving his right hand useless during the struggle with the suspect. A third bullet hit his upper left arm, and a fourth grazed his vest and hit his left armpit and shoulder.
"I don't know how long we struggled, but eventually the back passenger side door opens up, I rip the gun from his hand and I throw it out the door," he said.
Another officer at the scene rushed Powell to the hospital.
It took Powell nine months to recover, but he is now back on patrol.
The man who shot Powell that night -- Gary Lynn, of Raleigh -- was convicted in May and sentenced to a minimum of eight years and eight months behind bars.
Powell and his wife were in court for the sentencing. They said it brought them closure.