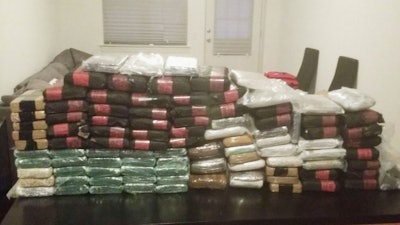 Two combined federal and local narcotics investigations in recent weeks netted the largest haul of the deadly synthetic opioid fentanyl in New York City history, disrupting what officials said Monday were retail drug operations trafficking throughout the metropolitan area, reports amNY.
In raids conducted between Aug. 1 and Sept. 5, investigators seized more than 140 pounds of pure fentanyl, as well as 75 pounds of fentanyl mixed with heroin. Large amounts of heroin and cocaine were also seized in the raids.
Investigators with the federal Drug Enforcement Administration, the NYPD Queens Narcotics squad and the office of city Special Narcotics prosecutor Bridget Brennan, took part in the raids.
"The sheer volume of fentanyl pouring into the city is shocking," Brennan said in a statement. "It's not only killing a record number of people in New York City but the city is used as a hub of regional distribution for a lethal substance that is taking thousands of lives throughout the Northeast."
The combined street value for the drugs was estimated at $32 million, officials said.
In a statement, NYPD Commissioner James O'Neill said the seizures were a "milestone" in the fight against fentanyl.