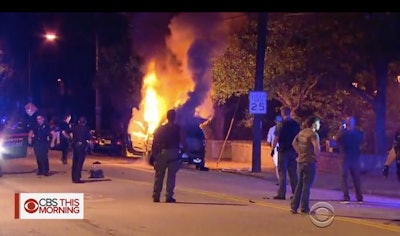 Two officers were injured and three people face charges after rioting broke out at Georgia Tech following a vigil for a student fatally shot by officers, a university spokesman said Tuesday.
Police shot and killed Scout Schultz, 21, Saturday night after the fourth-year student called 911 to report a person with a gun who was possibly intoxicated, the Georgia Bureau of Investigation said.
Police say Schultz was shot after the student refused to comply with police commands to drop a knife and advanced toward an officer.
On Monday night, Georgia Tech issued alerts urging students to shelter indoors because of violent protests. Video posted on social media showed a campus police vehicle burning in the street.
After Monday's vigil, which was described as "peaceful," about 50 protesters marched to the campus police department, university spokesman Lance Wallace said. A police vehicle was burned and two officers suffered minor injuries, with one taken to a hospital for treatment and later released, CBS News reports.