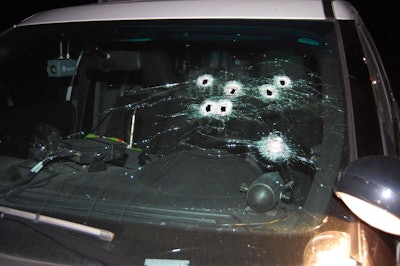 A man shot at a Sunset Hills, MO, police officer Saturday during a police chase that started in the suburb and ended with the car in which he was a passenger crashing in Carondelet Park in south St. Louis, reports the St. Louis Post-Dispatch.
The man and the car's driver, a woman, were taken into custody. No one was injured.
The man, Christopher Keown, 41, was charged with first-degree assault, armed criminal action, and interfering with a felony arrest. Cassandra Williams, 49, was charged with interfering with a felony arrest.
A police officer attempted to stop the suspects' car at about 1:15 a.m. The license plate was associated with a felony warrant, police said.
But the driver sped away and the officer initiated a pursuit. The car sideswiped the vehicle of an assisting Sunset Hills police officer and the passenger fired shots at the officer, penetrating the patrol car's windshield and narrowly missing the officer, police said. The officer returned fire but did not strike the suspects.
The driver eventually crashed the vehicle. Both suspects were taken into custody without further gunfire.
Police recovered a loaded .45 caliber pistol at the scene of the crash.