As California Highway Patrol lights and sirens heralded the moment, more than 2,100 Operation Gratitude volunteers of all ages and from all walks of life cheered the production of the organization's two millionth care package Tuesday.
Patriotic citizens from surrounding areas gathered for the milestone event that was dedicated in honor of the thousands of first responders who are still in harm's way battling the fires throughout Southern California. Supporters across the country tuned in online to view a live stream of the event.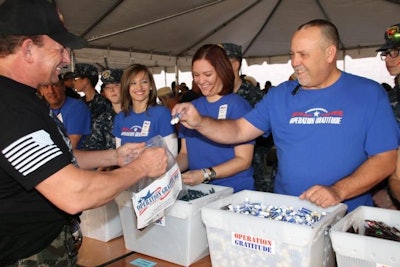 Energetic volunteers from civic and religious organizations, schools, local businesses, scout troops, and clubs assembled 10,000 Entertainment Care Kits and 100 Holiday Care Packages, stuffed 575 Battalion Buddies for children of Deployed Troops, made 4,588 Paracord Survival Bracelets, and wrote thousands of handwritten letters of encouragement and support.
They were joined by 100-year-old WWII Veteran Steve Politis who assembled the 1,999,999th Care Package and Green Beret Bob Pennington, who was one of the original 12 Green Berets, aka The Horse Soldiers, who went into Afghanistan on horseback to bring down the Taliban following September 11, 2001.
This milestone event commemorated nearly 15 years since Founder Carolyn Blashek started sending Care Packages from her dining room table in Encino, CA.
"In March of 2003, I met a soldier returning to the war zone. He had lost his entire family and believed no one would care if he never returned home," Blashek recalled to the crowd. "But I knew that was not true. I knew Americans care."
"Today, only four years since our One Millionth Care Package delivery, we have over 2,000 volunteers here today and 350,000 nationwide volunteers who have donated 25 million hours of service," Blashek said to the crowd. "You have produced the Two Millionth Care Package and countless smiles on the faces of all who serve."
"I would like to acknowledge what Carolyn has built, from her dining room table to the Two Millionth Care Package. I am honored to follow in her footsteps and lead the next chapter of Operation Gratitude," said Kevin Schmiegel, the new CEO of Operation Gratitude. Addressing the volunteers, he continued, "As a 20-year Marine, I can tell you that what you are doing is making a difference. I have seen it firsthand in the eyes and the smiles of deployed troops who received care packages. I can also tell you as a father of an enlisted Marine, what you are doing is important."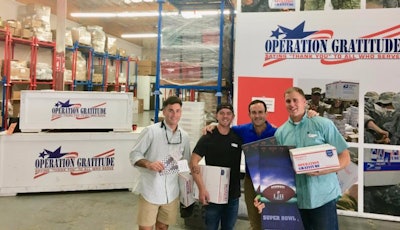 In a surprise announcement to a cheering crowd, Blashek and Schmiegel presented the three milestone Care Packages to Marines from 3rd Marines, 5th Battalion who recently returned from a deployment overseas and, unbeknownst to the crowd, attended the Operation Gratitude event.
All three Care Packages contained the signature items for which Operation Gratitude is known: snacks, entertainment items, hygiene supplies, handmade scarves, and paracord survival bracelets, plus letters of support from people nationwide.
Adding to the excitement of the occasion, the Marines and the volunteers together learned of the additional special items that Operation Gratitude's partners wanted to share with the package recipients.
LCpl Grant York received the 1,999,999th Care Package, containing a Wireless Sound System donated by Yamaha. "Operation Gratitude packages really do mean a lot to us on deployment," he told the crowd. "It's a nice surprise for the guys who don't get anything from home."
Receiving the 2,000,000th Care Package, which contained a pair of Super Bowl Tickets, courtesy of Mars Foods, was LCpl Hayden Grote. When asked whom he might take with him to the game in February, Lance Corporal Grote said without hesitation, "My dad. I'm going to call him right now and he's going to be excited to spend this time together with me."
The 2,000,0001st Care Package contained a NASCAR experience to the Charlotte 600, also donated by Mars Foods, and was received by LCpl Luke Blair.
As part of the presentation, the Target Corporation donated $500 gift cards to 60 additional Marines who recently returned from deployment overseas, and a $10 gift card to every volunteer in attendance. In addition, Mars Foods committed to donating an additional $2,000,000 in products to Operation Gratitude over the next 13 months.
Carolyn Blashek concluded the event by asking Kevin Schmiegel to join her on the stage. Blashek conducted a civilian version of a Change of Command Ceremony, presenting Schmiegel with the Operation Gratitude Flag and pledging her support for his new leadership.
For more information about Operation Gratitude, visit www.operationgratitude.com.