McCarthy Building Companies and the City of O'Fallon, MO, recently celebrated the grand opening of the new City of O'Fallon Justice Center that includes the O'Fallon Police Department and Municipal Courts.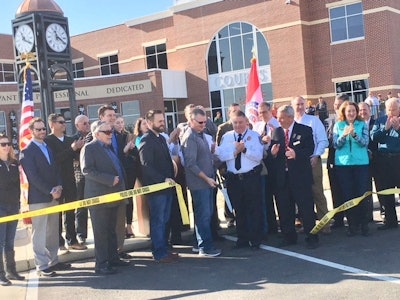 The new $26 million Justice Center features more than 96,000 sq. ft. of space and includes state-of-the-art technology and training spaces, an underground garage and sally port, and ample space for expansion as the City of O'Fallon grows over the next 30 years. The building was paid for by bonds from a property tax increase supported by more than 60% of O'Fallon voters.
"This building is truly a testament to how much our residents and businesses value public safety," said Mayor Bill Hennessy. "As our Police Department outgrew its previous home in City Hall, we knew we had to ask our residents to fund the construction of a new facility through a tax increase. We are so grateful for their overwhelming support of this project, and I cannot wait for our residents to see this great new facility. The O'Fallon Police Department has proven year after year to be one of the best departments in the country. Now, they have a home that also is among the nation's best."
Special features include a seven-stall indoor firing range and a firearms training simulator, a state-of-the-art training tool that supports marksmanship and judgmental training needs of law enforcement personnel and is one of the first in the area to be 300-degree surround. The project also includes 15 holding cells with separate cells for men and women, as well as two ADA accessible cells and one large group holding cell.
Lecture and presentation spaces feature a 70-seat tiered training room, a mechanical and emergency power system to serve the building, a 911 center, CSI lab space, offices, evidence storage room, and a courtroom. The building will also contain a FEMA-rated storm shelter. Specially designed duty lockers provide maximum security for storage of the specialized equipment police officers carry while providing ventilation for body armor.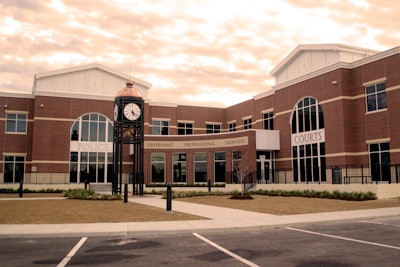 "McCarthy was honored to collaborate with the City of O'Fallon on this important project," said Ryan Freeman, vice president of operations at McCarthy. "As a national leader in justice projects and a local leader in construction, we understand the challenges facing municipalities and local governments. Our construction management approach delivered significant cost savings due to proactive preconstruction and construction planning, ongoing open communication with city officials, and careful review of detailed subcontractor specs and cost estimates."
Cost savings enabled the police department to build out nearly 9,000 sq. ft. of additional space on the second floor for future expansion to meet the anticipated growth of the community. By building this additional space concurrently with the scheduled construction, the city will save time and money, as well as reduce disruption to ongoing operations when the space is customized to accommodate a future use. Cost savings also enabled the City of O'Fallon to upgrade the facility to include better finishes, ceramic tile, carpet, and vinyl wall covering, as well as additional outdoor space, a breakroom for employees, and an outdoor canine training space.
The O'Fallon Justice Center was designed by Wilson-Estes Police Architects (now known as Police Facility Design Group) and built by McCarthy Building Companies. More information is available at http://www.ofallon.mo.us/PD/the-new-o-fallon-justice-center.