A deputy and his K-9 partner were injured when a Jones County, IA, Sheriff's patrol vehicle was involved in a near head-on collision Tuesday morning, reports KMCH.
It happened just west of Wyoming, IA, on Highway 64 around 7 a.m. The Jones County Sheriff's Office says a truck driven by 28-year old Ryan Leppert of Edgewood was heading east when he tried passing a semi. As he was passing, he struck an oncoming Jones County K-9 deputy vehicle. The patrol vehicle went into the ditch, struck a culvert, and came to rest upside down.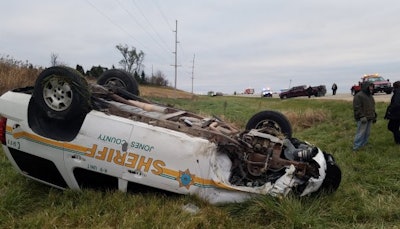 Authorities say the deputy, Derek Denniston, was able to free himself. He and a bystander were able to free the deputy's K-9, Loki, from the vehicle before the fire department arrived.
Deputy Denniston suffered minor injuries and was treated at the hospital and released. K-9 Loki was treated at the Anamosa Vet Clinic and also released. Both are expected to make a full recovery and return to duty.
Leppert and his three passengers were not hurt in the collision.
The Iowa State Patrol has charged Leppert with Passing Contrary to Highway Signs or Markers.