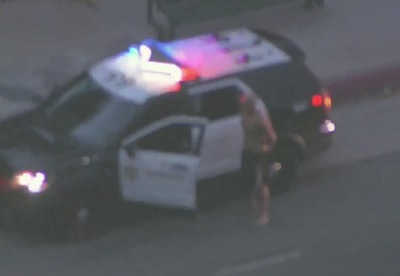 The driver of a stolen Los Angeles County Sheriff's vehicle was taken into custody Tuesday morning after apparent gunfire erupted during a chase through the San Fernando Valley.
It was not immediately clear how or where the Los Angeles County Sheriff's Department SUV was stolen. The chase began about 6:45 a.m. and made its way onto the 14 Freeway before continuing on surface streets in Granada Hills.
At one point the driver stopped in the middle of a street, backed up and rammed into a law enforcement vehicle involved in the pursuit. Gunfire then apparently shattered the rear window of the stolen SUV, ABC7 TV reports.
The incident ended around 7:15 a.m. with the arrest of the shirtless, shoeless suspect.