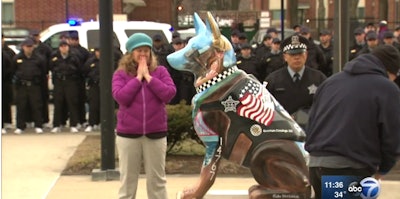 VIDEO: Memorial to Fallen Officer Unveiled at Chicago Police Academy
A new memorial for a fallen officer was unveiled at the Chicago Police Academy Friday morning.
The K9 for Cops statue honors Officer Thor Soderberg. It's a colorful work of art honoring a Chicago hero and is a reminder of an officer's sacrifice and the legacy he left behind.
It's been a long road for Soderberg's widow, Jennifer Loudon. She's been thinking of her husband every day for the last seven and a half years.
In July 2010, the 43-year-old officer was shot by a suspect who got a hold of his gun during a struggle and then left him to die.
The K-9 statue is part of Chicago's K9 for Cops public arts campaign launched by the Chicago Police Memorial Foundation. Funds were raised by individual donations, ABC Chicago reports.