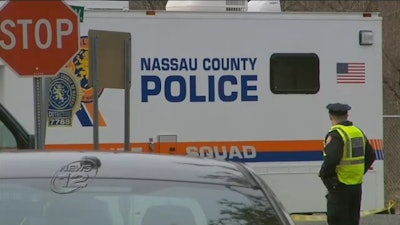 VIDEO: Bat-Wielding Suspect Fatally Shot by NY Officer
Nassau County, NY, police say an officer fatally shot a bat-wielding suspect in Great Neck Monday morning following an apparent road rage confrontation. The suspect reportedly attacked and injured two people who needed to be hospitalized.
Police say around 10:30 a.m. the male suspect was stopped in a Volkswagen at a stop sign with two vehicles behind him. Police say the suspect became enraged when one of the drivers honked their horn.
According to police, the suspect exited his car and hit the driver's side windows of both vehicles behind him and then hit one driver in the head with the bat, reports News 12.
According to police, when an officer approached the suspect, he came at him with the bat. A good Samaritan who tried to help was also hit in the head with the bat, police say.
Police officials say the officer attempted to use his TASER, but it didn't stop the suspect, who also allegedly ignored repeated commands by the officer to put the bat down.
According to police, two shots were fired, and one struck the suspect in the chest. He died at the hospital.
Police say the officer had just graduated from the academy last month. They say he used the correct tactical training under the circumstances.
Police say the suspect, 46-year-old Michael Ward, of Maryland, is believed to have been committing crimes in the area since Saturday, reports WABC.
Ward was initially wanted by police in Bordentown, NJ, for allegedly assaulting a gas station worker with a pair of brass knuckles and carjacking a customer's vehicle on Saturday. He is also suspected of two more carjackings, assaulting and robbing a 77-year-old, and running over and killing a pedestrian before the incident that ended with his death.