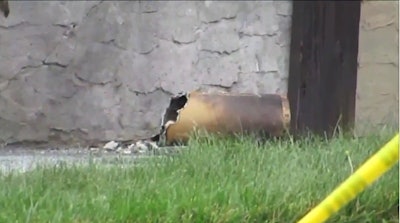 VIDEO: NYPD Officer was Target of Bomb That Killed Man in 2017
New York City officials announced on Wednesday the arrest of a man in connection with the death of a 73-year-old landlord who was killed last summer when a package exploded in his hands in Queens.
Victor Kingsley, 37, was taken into custody Wednesday after authorities searched a location in East Flatbush, Brooklyn. The search was part of a seven-month investigation by the NYPD, the FBI and other agencies.
The victim, George Wray, was severely burned on July 28 when he opened a package left on the porch of a home in Brookeville, Queens. He did not live there, but was the landlord of the residence.
Wray suffered burns over 80 percent of his body when he opened the canister package, identified as an IED, that police say had been on the porch for days. He died at a hospital days later.
Police say the name on the package was of a police officer who NYPD Chief of Detectives Robert Boyce believes was the intended target and who Kingsley mistakenly thought lived there. The container was filled with black powder and exploded when Wray opened it, PIX11 reports.