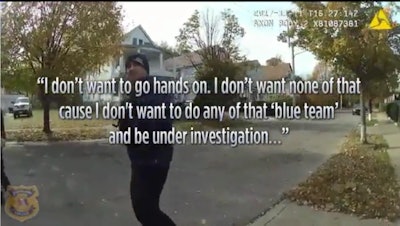 VIDEO: Cleveland Officer Under Investigation for Not Aiding Other Cops in Struggle
A Cleveland TV station has obtained video showing a city police officer saying he won't help other officers deal with a dangerous man because he doesn't want to end up under investigation.
The video comes from a call in November for a man having a mental health crisis. A group of officers tried to talk him into coming out of a house. A police report shows he made threats to officers and made other bizarre statements. That led to a struggle with police on the porch, Fox 8 reports.
During the struggle, one officer calmly walked down the street to get an ambulance crew. He can be heard telling paramedics, "I don't want to go hands on. I don't want none of that cause I don't want to…be under investigation."
The officer is now facing internal discipline for the incident. A disciplinary hearing has been held. But there's been no decision yet.