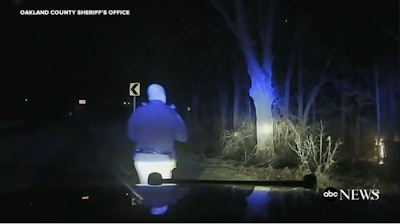 VIDEO: MI Deputy Pulls Teen From Burning Car After Crash
A sheriff's deputy on patrol in Michigan is being hailed a hero after dashcam video shows him running to pull a driver from a burning vehicle, reports ABC News.
The incident unfolded early Sunday at around 2:30 a.m. in Orion Township, MI. That's when the deputy witnessed the driver speed past him, according to a press release from the Oakland County (MI) Sheriff's Office.
The deputy then raced to catch up with the speeding driver, who lost control of his vehicle on the gravel roadway, the press release states. The car flipped onto its side in a wooded area, where it burst into flames.
Video shows the deputy running up to the burning car and pulling the driver out to safety through the sunroof. An additional three deputies arrived on the scene and helped move the driver away from the car.
Oakland County Sheriff Michael Bouchard commended the four officers on Monday for risking their own lives to save the driver, who was identified as an 18-year-old male resident of Orion Township.
Paramedics treated the driver for a broken leg and cuts.