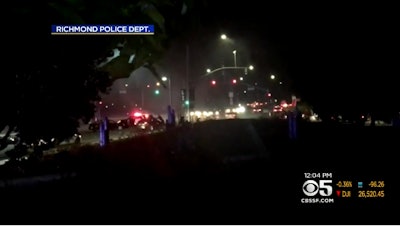 VIDEO: CA Officer Struck by Car While Trying to Break Up Sideshow
Two teens have been arrested and charged with attempted murder after allegedly running over a Richmond, CA, police officer as he attempted to break up an illegal sideshow early Sunday morning, authorities said.
Richmond Police Chief Allwyn Brown told reporters that Juan Vargas, 18 of Patterson, who was the driver, and his 18-year-old girlfriend — Genesis Diaz-Castaneda — were in custody at the Contra Costa County Jail on charges of attempted murder, conspiracy, and making a false police report. Bail has been set at $240,000.
The officer injured, Brown said, has been released from the hospital. The eight-year veteran suffered a variety of injuries including broken bones, cuts to his head, and road rash, reports KPIX-TV.
Brown said the incident began early Sunday morning when "this flash mob of reckless driving" gathered at Marina Bay Parkway just north of Regatta Boulevard around 1 a.m., with many cars spinning doughnuts and screeching tires.
While officers were trying to stop a few cars for vehicle code violations, one of the cars sped toward an officer who was on foot.
The car reportedly sped off, leaving the injured officer in the middle of the road.