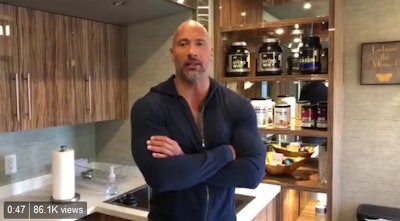 VIDEO: 'The Rock' Sends Words of Encouragement to CO Deputy Wounded in Shooting
"The Rock" sent a message via Twitter to wounded Douglas County (CO) Sheriff's Office Deputy Jeff Pelle, who's a huge fan of his, wishing him a speedy recovery.
"I've been tracking your story," the actor and professional wrestler said. "What a crazy large world we live in, and what an incredibly small world we live in. I heard about the scenario you went through and I'm sorry about your loss. I heard you lost a brother by the last name of Parrish."
Pelle, who is the son of Boulder County Sheriff Joe Pelle, was shot along with three other Douglas County deputies, a Castle Rock police officer and two civilians at a Highland Ranch apartment complex on Dec. 31. One of the deputies, Zackari Parrish, was fatally wounded, and police shot and killed the gunman.
Pelle was released from the hospital last week and The Rock, whose real name is Dwayne Johnson, said in the video that the deputy "will be up and at 'em in no time," reports the Daily Camera.
"I heard this years ago," The Rock said. "When I just completely tore up my Achilles tendon and had to shut down, it was something like, 'Setbacks are just a set up for an even bigger comeback.'"