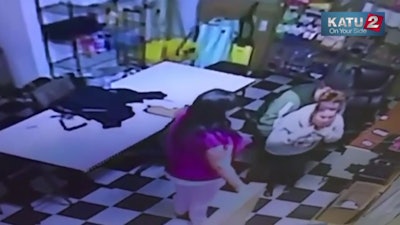 VIDEO: Oregon Deputy Saves Life of Woman Choking on Potato Chip
A Marion County, OR, deputy saved a woman's life after she began to choke on a potato chip at a Salem deli in December, reports KVAL.
Angelica Sandoval, an employee at DeDe's Deli in Salem, was in her office working when she heard a deputy asking for video footage from their parking lot.
Deputy Gregg Ramseyer was in the store investigating a hit-and-run crash and believed the restaurant's video surveillance may have captured the incident.
Before Ms. Sandoval could help she began choking on a potato chip and could no longer breathe.
When another employee was unable to dislodge the chip using the Heimlich maneuver, Deputy Ramseyer radioed for paramedics and came to the woman's aid.
Ramseyer performed several cycles of the maneuver, eventually clearing the obstruction, which allowed Sandoval to breathe normally.