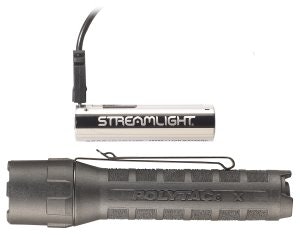 Streamlight introduced four rechargeable tactical light systems at the SHOT Show this week.
Each light comes with the new Streamlight 18650 USB lithium ion battery with integrated micro USB charging port, turning Streamlight's high performance lights into rechargeable systems. The new models are designed as an economical alternative to using disposable batteries, which the lights also are designed to accept, and give users multiple ways to power and recharge their lights.
Rechargeable system models are available for the ProTac HL-X and the ProTac 2L-X, as well as the recently introduced PolyTac X and the all new ProTac HL 5-X. Each of the lights comes packaged with a new Streamlight 18650 lithium ion battery with a micro USB port and a charging cord.
The new models use the latest in power LED technology to provide a light output ranging from 500 to 3,500 lumens. Featuring machined aircraft aluminum construction, the three ProTac models also are lightweight, making them ideal everyday carry lights. And the PolyTac X USB rechargeable system is extremely durable, with a case made of high impact super tough nylon polymer that also provides a sure grip.
Each of the lights also features a strobing function, useful for signaling purposes in the field, or for disorienting potential suspects.
The MSRPs for the new lights range from $90 to $175.
For more information, visit www.streamlight.com.