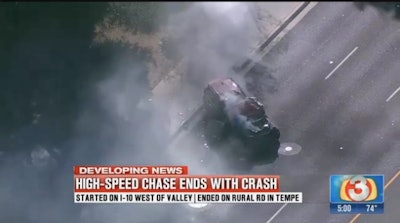 VIDEO: Suspect Leads AZ Troopers on High-Speed Chase that Ends in Head-On Crash
A wild chase along Arizona freeways Wednesday morning ended in a violent crash in Tempe.
A suspect, identified as 31-year-old Mitchell Timothy Taebel, driving a red SUV began speeding along the freeways just before 10 a.m.
"It all began in the west Valley on State Route 85," said DPS Trooper Kameron Lee. "One of our sergeants attempted a traffic stop on a red Jeep SUV, northbound on SR 85 at MP 138, which is north of the prison and south of MC 85."
The chase lasted for nearly an hour and came to a violent end when the suspect slammed into another car on Rural just south of Apache, spinning out in a cloud of flying metal and billowing smoke, AZFamily reports.

DPS says Taebel has an extensive criminal history stretching across several states. He has a California driver's license.