Robby Anderson, 24, a wide receiver for the New York Jets who lives in Sunrise, FL, was arrested early Friday morning after police say he was speeding, driving recklessly, and made threats against an officer, reports the Sun Sentinel.
The Florida native is accused of threatening to find the wife of the police officer who took him into custody and sexually assault her, as well as making threats against the officer's family, according to an arrest report.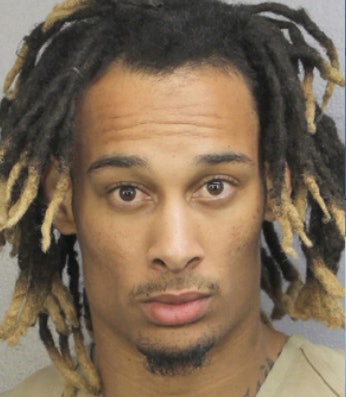 While in the back of the police car, Anderson told the officer that "he was going to find my wife, f--- her and nut in her eye," Hennessy wrote in the report, according to KSAT.
"He continued to make other verbal threats towards my family," Hennessy wrote. "Based on his statements, it was clear that he intended to sexually assault my wife."
"He also began to brag about how much money he has, and how all I was doing was trying to 'ruin his fun,'" Officer Jonathan Hennessy wrote, reports the Sun Sentinel.
Anderson came to the attention of police Friday when a white SUV approached a traffic stop near 801 N. Flamingo Rd. in Sunrise. The SUV sped past and police followed.
The SUV was "all over the roadway and failed to maintain a single lane on numerous occasions," the report states. The SUV stopped in the 11400 block of State Road 84 in Davie.
Asked by Hennessy why he was driving recklessly, Anderson asked for his lawyer. As the officer was placing Anderson into the back of a patrol car, the athlete tensed up and refused to get in at first, police said.
"We are aware of the situation," a Jets spokesman said. "This is a pending legal matter and we will have no further comment."