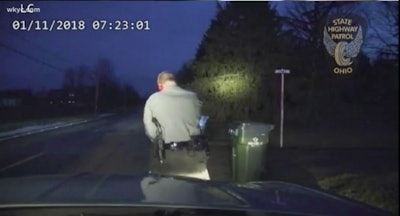 An Elyria, OH, man reportedly bit off a portion of an Ohio State Highway Patrol trooper's ear during a struggle Thursday morning.
The incident started after a woman called 911 to report a man she believed to be inebriated walking down the road. The caller told dispatch the man was walking in the road and she feared he would be hit by a car.
When state trooper Lance Deshuk confronted the suspect, identified as Cornelious Carey, Jr., 44, of Elyria, Carey began hitting Deshuk in the face, authorities say. The struggle continued for several minutes until additional officers arrived to take Carey into custody.
Court documents state Carey caused "a portion of the ear to be removed from the trooper's body," ABC10 reports.