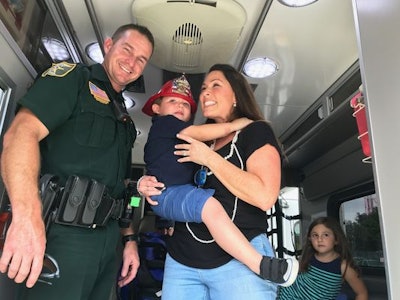 VIDEO: Family Visits Florida Deputy Who Helped Save Their Baby's Life
Three years ago, Karla Mancini's 11-month-old son, Dominic, was limp, barely breathing and making soft gasping sounds as he struggled to stay alive, she said. Martin County, FL, Deputy Jason Hickman's actions saved him.
As the family raced through traffic near Jonathan Dickinson State Park in Hobe Sound, Hickman stopped them and called emergency medical services. Mancini believes the outcome of that day would have been different had it not been for Hickman's call, reports tcpalm.com.
Dominic and his family came to the Sheriff's Office to thank Hickman May 23.
Mancini, who is a nurse, said her son became ill after an episode of silent reflux, where stomach acid flows back into the esophagus and irritates the throat. It caused Dominic to turn blue.
"He had told me, 'It's OK, take a deep breath it's all going to be fine,'" Mancini said about Hickman. "He was the one that orchestrated a calm environment."