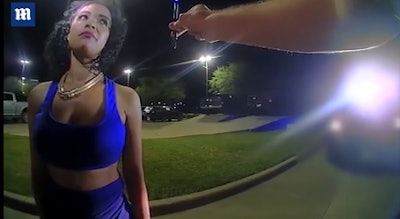 Daily Mail Screen Shot)
Video Disputes Woman's Claim That She was Sexually Assaulted by Texas Trooper
An allegation that a Texas trooper sexually assaulted a woman last weekend in Waxahachie went viral on social media.
But after the Department of Public Safety published the full nearly 2-hour body-cam video of the incident, Sherita Dixon-Cole's attorney, Lee Merritt, apologized online and said that the trooper in question had been "falsely accused," the Star-Telegram reports.
Cole, 37, of Grapevine, was pulled over at about 1:30 a.m. Sunday for a traffic violation and arrested on suspicion of driving while intoxicated. She was transported to the Ellis County Jail and charged, according to the DPS.
During the stop, Cole alleged, Officer Daniel Hubbard offered her special treatment for sex, then sexually assaulted her, according to a news release tweeted Monday by Merritt.
The allegations, which the DPS denied Sunday evening, were amplified on social media by Merritt and social activist and journalist Shaun King, who wrote that Cole had been "kidnapped and raped" in posts that were widely shared and re-tweeted from his Facebook and Twitter accounts. He also alleged in an article he wrote for BlackAmericaWeb.com that Hubbard threatened to kill her fiancé if she said anything.
King has since deleted his social media posts about the incident. He did not immediately respond to email and text requests for comment.