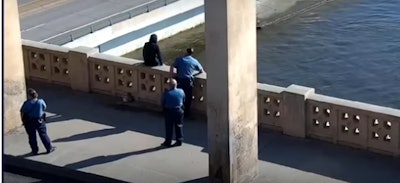 As a woman sat on the ledge of a St. Paul bridge Tuesday, the city's police chief helped another officer pull her to safety.
Chief Todd Axtell had just left breakfast and was heading to police headquarters about 8:30 a.m. when he heard a call dispatched about a woman getting ready to jump from the Robert Street Bridge. He was about two blocks away and he headed to the bridge.
"It breaks your heart to see people struggling with depression and it's so rewarding to know that our officers, the guardians of St. Paul, were there to help this woman," Axtell said. "The sad part is our officers do this frequently and oftentimes the recognition isn't there."
Axtell found Officer Frank Judge talking to the woman, whose back was to him as she faced the river, and Officer Gao Vang monitoring the situation a few steps back.
The police chief, who rose through the ranks after joining the department in 1989, was previously a member of the crisis negotiation team.
Axtell said he made eye contact with Officer Judge and nodded his head to "communicate that it was time and safe to pull her to safety," and they worked together to do so.