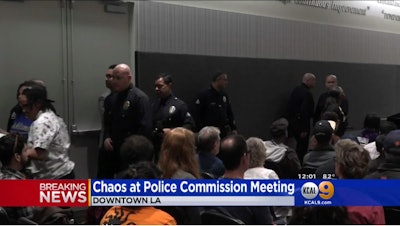 VIDEO: Ashes Thrown on LAPD Chief at Meeting
Two women were detained by police when one of them allegedly threw what witnesses said were ashes at Los Angeles Police Department Chief Charlie Beck during a meeting at LAPD headquarters Tuesday.
Police say the powder-like substance – which was not officially identified – was thrown in the general direction of the police chief and "did land on Chief Beck."
Several sources told CBS2's Dave Lopez the substance was the ashes of Wakiesha Wilson, who died while in LAPD custody in 2016.
Reports from the scene suggest that Sheila Hines-Brim allegedly threw some of Wilson's ashes at Beck and then reportedly shouted, "That's Wakiesha," as she was walking away.
Although the women have not been formally identified by authorities, the activist group Californians for Progress identified the detained women as Melina Abdullah, a leader of the Los Angeles arm of Black Lives Matter, and Hines-Brim, Wilson's aunt.