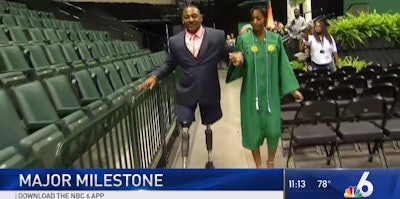 WTVJ screenshot)
VIDEO: Florida Major Who Lost Both Legs Walks at Daughter's Graduation
Nearly a year after a life-altering motorcycle crash, Miami-Dade police Maj. Ricky Carter fulfilled a promise he made to his daughter Thursday night.
Maj. Carter walked during his daughter's college graduation on his brand-new prosthetic legs. WTVJ was on hand to capture the moments when he walked into the Sun Dome arena in Tampa. Seeing her father take those steps was inspiring to Jennifer Carter.
"Just a year ago, I didn't think he would be here," the University of South Florida grad said. "To see him stand again felt like old times. It was the best feeling ever."
For months, Maj. Carter spent hours in physical therapy learning to walk again for Jennifer's graduation.