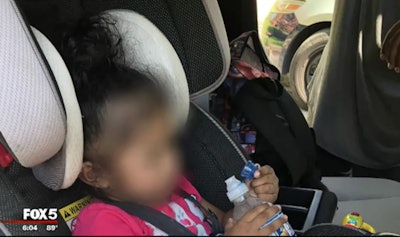 VIDEO: Maryland Officer Rescues Toddler from Hot Car
A Prince George's County, MD, police officer trusting his gut instinct returned to the scene of an arrest Tuesday and found a baby girl alone in a hot running car.
Cpl. Darryl Wormuth found the child in the parking lot of a Suitland apartment complex where she had been sitting for at least three hours.
This all started when the officer was on patrol Tuesday at the apartment complex and located a man apparently high on narcotics. Cpl. Wormuth had first responders come to the scene to treat the man and take him to the hospital.
Afterwards, he went back to the apartment complex sensing something wasn't right.
When he returned, he located a Toyota RAV4 running with the driver's side window down. Inside the vehicle was a 1-year-old girl in a car seat. She reportedly has been in the hot car for at least three hours.
The man who was taken to the hospital was the baby's father. He has been charged with reckless endangerment and a related unattended child charge, Fox 5 reports.