A high school student has been arrested on suspicion of plotting an ISIS-inspired mass shooting at Stonebriar Centre mall in Frisco, Texas, authorities announced Wednesday.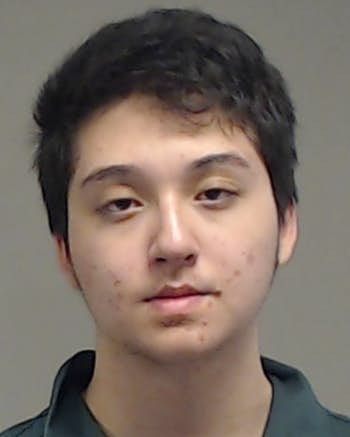 Matin Azizi-Yarand, 17, faces charges of making a terroristic threat and criminal solicitation of capital murder of a Texas peace officer. He was taken into custody at school just before noon Tuesday and transferred Wednesday to the Collin County Detention Center, where he was being held on $3 million bail. If convicted, he could be sentenced to life in prison, reports the Dallas Morning News.
Authorities say Azizi-Yarand planned to carry out the attack in mid-May with other participants. He had sent more than $1,400 to others to buy weapons and tactical gear, they allege, and had written a "Message to America" explaining his reasons for the attack.
The teen discussed his plans online with FBI confidential sources and an undercover employee, mulling over attacks at a school and a Hindu temple before settling on Stonebriar Centre, according to a probable cause affidavit. He allegedly told the sources that he had learned the layout of the mall and had been observing patrons and security there.
During one conversation, he allegedly stated: "I'd actually like to make a cop surrender and drop his gun // Then douse him with gasoline and burn him // record it."
The case was investigated by Plano and Frisco police and the FBI. It will be prosecuted by the Collin County district attorney's office.