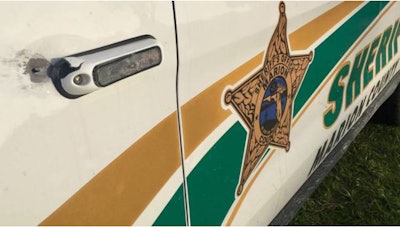 Several shots were fired at a Marion County (FL) Sheriff's deputy and bystanders early Sunday in front of a bar about 12 miles north of Ocala.
Deputies are working to identify any eyewitnesses and have asked for the community's help, Ocala.com reports.
According to an MCSO press release, Deputy Joseph Spratlin responded to a call at Paradise Bar and Lounge around 2 a.m. at 13007 North U.S. Highway 441. As Spratlin dispersed a crowd in front of the bar, "several rounds were fired toward (the deputy) and civilians."
Spratlin, however, did not return fire, but instead "focused on getting bystanders to safe shelter." Spratlin took cover behind his patrol vehicle, which was hit by one bullet.
The most recent shooting comes while the area is still reeling from both the shooting deaths of Gilchrist County Sgt. Noel Ramirez and Deputy Taylor Lindsey in an ambush in Trenton on Thursday and the shooting on Friday at Forest High School that injured a student.