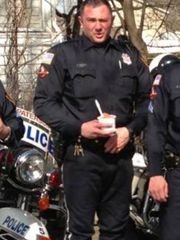 A Paterson, NJ, police officer was pronounced dead after a one-car, on-duty crash Sunday morning, according to the Passaic County Prosecutor's Office.
Officer Tamby Yagan's patrol vehicle collided with a parked car, city officials said.
"The officer was the only person involved in the crash and was transported to Saint Joseph's Regional Medical Center, where he later died from his injuries," a press release said. There were no other injuries. The crash remains under investigation.
It is not clear whether the accident was the cause of his death, or whether the officer, who was 41, suffered a medical emergency before the 10:50 a.m. crash. The case is being investigated by the New Jersey State Police and the Passaic County Prosecutor's Office. Officials said there was no indication Yagan was involved in a pursuit, North Jersey.com reports.