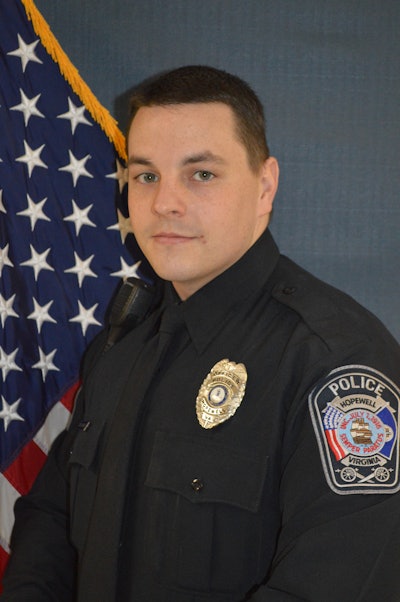 Officer Shawn Grant of the Hopewell (VA) Police Department is the second nominee in the April HAIX Hero of the Month competition.
A six-year veteran of law enforcement, Grant was nominated for his life-saving skills and quick thinking.
On April 1 Grant and other officers of the Hopewell PD responded to a reported stabbing at a local residence. Upon arrival they saw two males outside the home and detained them both. Inside the home, they found another male who had been stabbed multiple times in the abdomen and arm. Officer Grant applied a tourniquet and combat gauze to keep the victim from bleeding out before firefighters arrived. The victim was airlifted to a nearby hospital in critical condition. He survived his wounds, and the fire captain who responded to the scene said Grant's quick response saved the victim's life.
Grant's supervisor who nominated him for HAIX Hero of the Month honors wrote: "Officer's Grant's quick action to take life-saving measures brings great pride to the Hopewell Police Department. Officer Grant can be described as a proactive leader in our department with experience in fire/EMS services, which has proven to be a great asset to the department. Officer Grant is also a member of the department's SWAT team, a firearms instructor, and a field training officer."
To vote for Officer Grant as HAIX Hero of the Month, give him a "Like" on the POLICE Magazine Facebook page. (https://www.facebook.com/PoliceMagazine?ref=hl)
One more law enforcement officers will be nominated in April for HAIX Hero of the Month. The winner will be the officer receiving the most likes.
For more information on HAIX Hero of the Month, go to http://www.policemag.com/channel/patrol/news/2018/04/02/haix-to-honor-law-enforcement-hero-of-the-month.aspx
To nominate an officer for HAIX Hero of the Month, go to http://www.policemag.com/channel/patrol/news/2018/04/02/hero-of-the-month.aspx