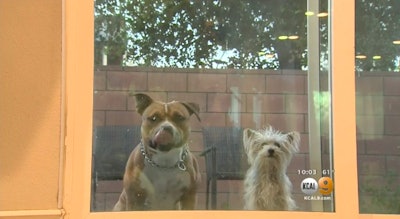 VIDEO: Family Dog Helps LAPD Capture Pursuit Suspect
A Sun Valley family's dog helped lead to the eventual capture of a suspect attempting to evade the Los Angeles Police Department, reports CBS Los Angeles.
"That's our hero right there. Guy's getting a nice juicy steak," said homeowner Albert Prado.
The suspect reportedly led officers on a pursuit in a stolen car. At the end of the chase the LAPD took a woman into custody quickly, but the male suspect ran away, and into Prado's backyard.
The family wasn't home, but their two dogs were. Jax can be seen on home security camera video chasing a man out of the yard and over a wall. Video then appears to show the suspect ripping a screen off a window to enter the home.
After Prado viewed the video remotely and showed police the footage, he let officers enter his house where they found the suspect hiding in a first-floor bathroom.