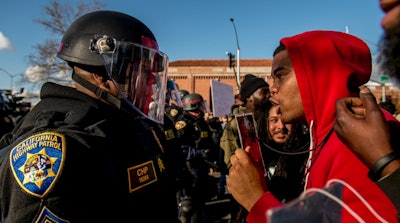 VIDEO: Black CHP Sergeant Berated as "Uncle Tom" During Sacramento Protest
Protesters blaming police for the death of Stephon Clark vented their rage at all the California Highway Patrol officers blocking their path on I Street as they attempted to shut down Interstate 5 on Friday.
But one officer was berated more personally and intensely than any other cop from a special CHP tactical unit wearing riot gear that day.
CHP Sgt. Ron Wade, 45, was the lone African American in a group of roughly 30 officers lined up in formation on I Street near the onramp to northbound lanes of Interstate 5.
They called him an "Uncle Tom" and some of the worst names that an African American man can be called by other African Americans. They labeled him a tool for the white man, disparaged his family, his upbringing, the Sacramento Bee reports.