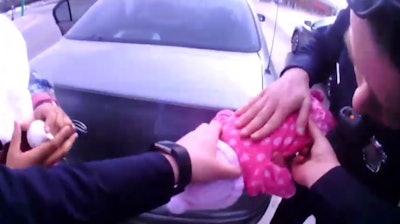 VIDEO: Ohio Officers Save Choking Baby
Body cam footage shows two police officers in Shaker Heights, OH, rescuing a choking baby, as the mother's vehicle was stopped in the middle of traffic.
Officers Ryan Sidders and Alex Oklander saw the mother Tamica Pruitte's vehicle with its emergency lights blinking and pulled up behind it to offer help, reports said.
"The baby had what seemed to be milk coming out of her mouth and nose," Oklander told Fox 8 Cleveland. "That's when we administered the back thrusts." After several attempts, the baby's airway was cleared.