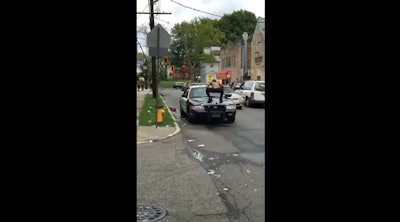 VIDEO: Newark Officers Suspended for Failing to Stop Man Stomping Patrol Car
Two Newark, NJ, police officers have been suspended for failing to stop a man from stomping and jumping on a patrol car. Video of the incident, which happened Saturday afternoon, went viral on social media.
"These officers either sat in a car or had their hands in their pockets. They didn't do their jobs," said Anthony Ambrose, Newark's public safety director.
The officers have not been identified because the investigation is continuing. The first officer who encountered the man has been on the force seven months. The second is a 10-year veteran, NJ.com reports.
"Let's not mix up restraint versus not doing their job," Ambrose said.
A suspect was later arrested and identified as Althariq Aulston, 18.